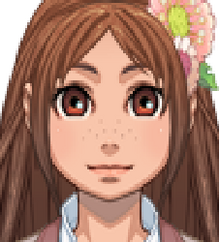 Sally is a party member in the first game.
She is based on the Sally character from Play with Me.
Her and Samira's face sprites are palette swaps of each other, apart from minimal differences.
She has a fascination with blood, violence, and befriending obviously dangerous Creepypasta characters such as Tails Doll and Laughing Jack. She is very likely mentally ill.
Apparance: She seems to be a girl with long brown hair with some curly tips in the end and is hung by 2 pretty pink flowers. she is seemed to be in good shape wearing a pink dress with white ruffles
Ad blocker interference detected!
Wikia is a free-to-use site that makes money from advertising. We have a modified experience for viewers using ad blockers

Wikia is not accessible if you've made further modifications. Remove the custom ad blocker rule(s) and the page will load as expected.